Breakout from the pattern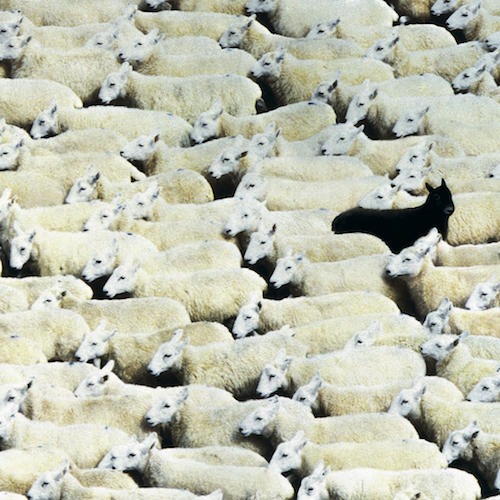 As people, we love pattern. But interrupted pattern is more interesting.
– Jay Maisel
Tea pickers at collection point, Mount Vernon Estate, Sri Lanka. 2014.
The row of Sri Lankan tea pickers waiting in line to deliver their baskets of picked tea is interesting enough as a scene, but is transformed the moment the young woman near the middle leans forward. She breaks the line yet stays part of it, and the eye goes directly to her in an instant. Creatively, the breakout, of which this is just one example, is almost always satisfying, not only because it gives the viewer a point of attention, but because it sets up a contrast.
The odd man out has a sort of cult appeal, perhaps partly because the eye finds it refreshing to see a single break in a pattern, but also partly because it invokes the idea of the rebel. That second thought might be hard to swallow when you're looking at the breakout example in the form of a box of eggs, but it worked wonders in an advertising photograph devised by the British agency Bartle Bogle Hegarty for Levi jeans. The American company was launching black jeans in 1982 when the colour was unusual, and the agency proposed an image of a herd of white sheep moving in one direction with a single black sheep in the midst heading in the opposite direction. The headline read, "When the world zigs, zag." Not a pair of jeans in sight, and a great success. More than 30 years later, the agency still uses the image for its own branding.
When the world zigs, zag. 1982
An award-winning advertising photograph by Alan Brooking that significantly had nothing whatsoever to do with the product it was selling (jeans), and succeeded purely on the power of imagery and by being different. The agency responsible, Bartle Bogle Hegarty, continues to use it as its brand statement more than three decades on.
Visually, as Jay Maisel says, we like patterns (called "field images" in art-speak because they extend to the frame edges
and resemble a field). It is oh so much more interesting, however, when the pattern is broken by one unit behaving differently.
It's an idea with traction with the added attraction as a creative path in photography of not being easy to pull off in real life. The line of guardsmen at the UK's annual Trooping of the Colour is highly trained not to break their pattern and give you a great photograph. How about masses of sunflowers all facing the sun, as they do, but with one facing in the opposite direction?
Yes, you can set up a pattern-breaking photograph (that black sheep image didn't just happen by itself ), but that removes part of the fun. That said, a strong idea will often make a strong image. Certainly, make it if you can. If you come across it in the real world, however, even if less tidily, it gets you extra points. The basic technique is to first find and frame the pattern. Telephoto lenses are usually good for this because they hone in on details while compressing perspective. Then wait, anticipate, and be lucky.
Michael Freeman is Michael Freeman's guide that provides the reader with 50 "paths" they can explore to think about taking photos, looking at subjects from cliché to zen, so you will be able to hit the right point in surprise, originality, insight and execution every time.
Fifty Paths to Creative Photography
Michael Freeman
Buy it now!
RRP for print edition: £19.99