Photographing a row of beautiful beach huts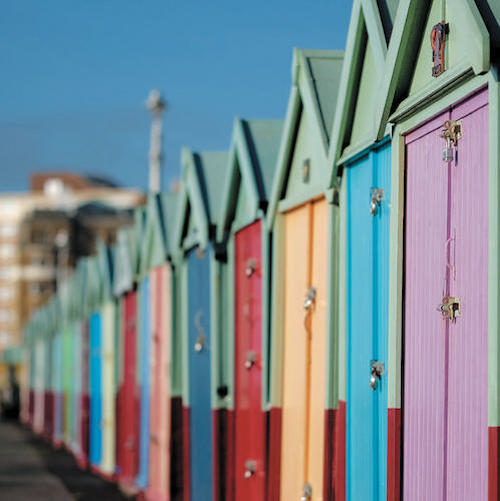 Beach huts are a quintessential British seaside sight. And make for fabulous photos.
If you want to capture as many of the colours in a row of beach huts as possible, simply means shoot along it, into the distance. In terms of composition, pick the closest and nearest of the huts huts you like the look of and adjust your angle so they're touching opposite sides of the frame. Then look out for any nice details on the closest hut that you want to include—like a door handle, a lock, or a number—and ensure they're not awkwardly cropped. If you lower your position a little so the camera is at the same height as the middle of the doors it will give you a squarer perspective to shooting at head height looking slightly down.
As for lenses, you will probably find that short to mid telephotos is best in this situation for several reasons. First, they ensure the subject is rendered naturally in terms of scale, whereas a wide-angle would make the hut in the foreground dominate the frame and render those in the background very small. Second, telephoto lenses deliver a flattened perspective that appeals to me for this kind of subject. Third, they give a greater opportunity for a shallow depth of field if desired.
The photo at the top of this article was shot with the Fujinon XF 90mm ƒ/2 telephoto on a Fujifilm X-T1 body, upon which it delivers coverage equivalent to 135mm. The aperture was set to ƒ/2 for the shallowest depth of field possible and the focus set on the lock on the closest pink door.
Tip 
When faced with bright colours, you might want to choose a preset to further saturate them or one to mute them (Velvia or Classic Chrome on the Fujifilm bodies, respectively). If you have time, try them all. Depending on the subject and lighting, you may be surprised by the result. As it happened, the colours here popped so much that Provia, a natural-looking preset, worked best.
EXIF data
Fujifilm X-T1
Fujinon XF 90mm ƒ/2
90mm (135mm equivalent)
ƒ/2
1/11000 second
0 EV
ISO 200
Provia