Photographing the Simpsons Hut (or a lifeguard station, or just taking photos on the beach)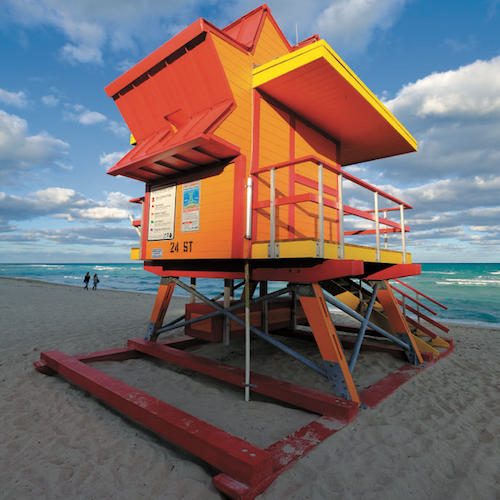 When the lifeguard huts of Miami Beach were wiped out by Hurricane Andrew in 1992, the city saw it as an opportunity to replace them with something new. Today, the 35 strikingly designed lifeguard stands spread between 87th Street and South Pointe have become new icons of Miami Beach, joining the art deco hotels of Ocean Drive.
These huts placed at regular intervals really are like catnip to a photographer, particularly on a sunny day when the colours really pop. This one, on 24th Street, is a relatively new addition to the rest, unveiled toward the end of February 2016.
The stand was designed by architect William Lane, who was also responsible for a number of the others. He saw an opportunity to make them more playful, although they do, of course, still have to function as stands for lifeguards. From the side, its spiked star-like design reminded me of the cartoon character Lisa Simpson.
The colours of this hut are especially eye-catching. They stand out at any time of day, but particularly so under the orange light of the setting sun. For dramatic effect, this was shot with an ultra-wide lens from close range and with the natural horizon positioned roughly across the middle of the frame to minimise geometric distortion. While the colours were already vibrant, using the camera's Vivid profile gave even greater saturation.
It's unapologetically full on!
Tip
These lifeguard stands respond well to a variety of approaches, especially shots from directly behind with an expanse of beach, sea, and sky in the background. Ultra-wide angles will provide the right drama, whether close up to focus on the structure or a little farther back to include more of the surrounding scenery. If you are shooting close, be careful not to capture your own shadow against the building and think about whether you want people in the shot or not for scale and context.
EXIF data
Fujifilm X-Pro2
Fujinon XF 10–24mm ƒ/4
10mm (15mm equivalent)
ƒ/9
1/220 second
0 EV
ISO 200
Velvia
In Camera is Gordon Laing's guide to making the most out of your digital camera, and never feeling as if technology has left you behind. In Camera will teach you the skills to push your camera to the limit and capture the perfect shot, under all conditions, with no post-processing required.
In Camera
Gordon Laing

Buy it now!
RRP for print edition: £19.99