Capturing those in between moments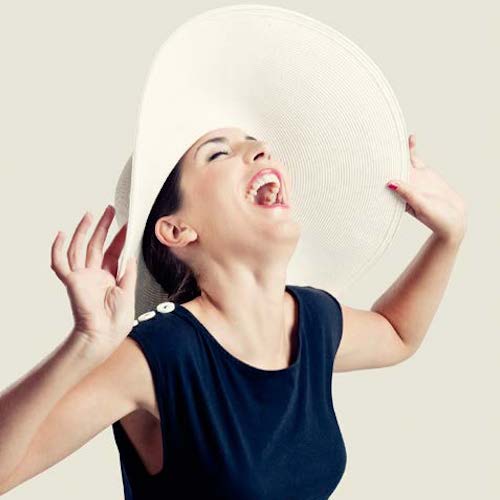 You can catch an 'in between' shot in the moments when a model is naturally unaware of the camera.
Models are often required to sit or stand very still, in traditional poses, with minimal movement between shots. These images can be easier to direct, light, and shoot quickly, but there are times when these formal set-ups lack energy and life. Though technically more difficult, capturing movement and moments—often mid-action—can lead to more exciting and dynamic pictures that appear spontaneous and impulsive because they truly were.
You can capture these 'in between shots' during a movement, or the seconds before or after an action is performed. It can even occur between shots, when the model believes they have finished shooting and relaxes slightly. You have to watch out for these instances, which can be big and wild, or small and intimate, but are over in a flash and hard to recreate. You must shoot quickly and be ready for anything—it's a well- known fact that models give you their best work when you're not holding your camera.
This is about highlighting a model's natural behaviour and expressions, only this time with their body as well. If something about a shot isn't working, never be afraid to change things up and ask the model to step out  f their comfort zone a little. Just make sure you capture their reaction.
Depending on the style of shoot there may be certain rules concerning how much of the outfit you need to see, but even unprintable shots will be great for your personal portfolio. Be open and willing to let someone else inspire you with his or her actions—every model brings something new and fresh, so use it!
A shooting environment that promotes experimentation without judgment will lead to better "in between" shots. If you are looking for a little inspiration when directing movement try asking your model to perform some of the following actions:
Walking
Even a single step can be effective, but also try working with different speeds and stride lengths.
Running
Make sure the outfit allows for lots of movement and watch out for high heels!
Spinning/Twirling
It's hard to catch a clear face shot, but good for lifestyle images.
Shake it out
Make your model go crazy—to fling their arms and legs about and shake their head all over.
Jumping
Jumping can be beautiful if controlled well with timing. Change up the direction and eye line, and maybe add a trampoline for fun.
Balancing
Just asking a model to stand on one leg can lead to hilarious results.
Dancing
Be kind and have music playing! Never joke about someone's dance moves—let them feel free to look silly.
Talking/laughing
A good model has a great fake laugh, but getting models to talk or whisper—especially in a two shot—can produce very natural- looking results.
Prop interaction
If there's a bicycle, ask the model if they can ride it. Sometimes props can be seen as cliché, but they can also add a lot to a picture.
Work the hair
Let your model swoop it, whip it, ruffle it, whatever works.
Look down
Sometimes a model will check their footing and you'll realise how perfect the shot is when they look down. Use their natural instincts.
Surprise!
If you have a great relationship with a model it can be fun to surprise them from time to time. On the final shot get a crew member to spray them with water, or whisper to another model to push them in a pool. Think outside the box for the best reaction shots, but be ready to click!
Shooting Models
Franki Falkow and Adam Duckworth
Buy it now!
RRP for print edition: £17.99