Photographing your pets. They are family, after all!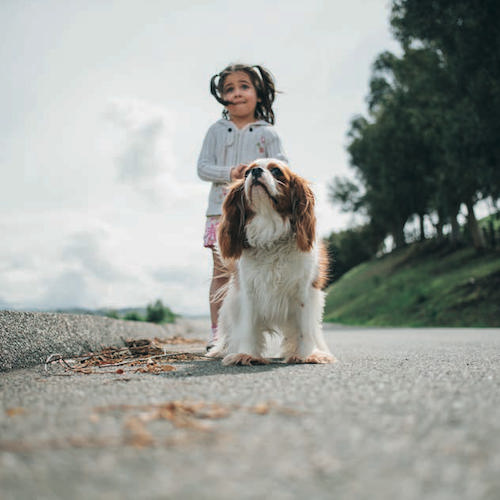 Documenting your family's everyday life wouldn't be complete without including your pets.
According to the Humane Society of the United States, almost 60% of American households keep at least one kind of pet. Dogs are the most common, but cats are a close second, followed by birds, snakes, lizards, hamsters, guinea pigs, horses, and rabbits. And that doesn't even take farm animals into account. Bottom line: We love our pets. They live in our homes and sleep on our beds (admit it, you let your dog sleep on your bed) and they make us laugh, keep us company, and generally enhance our lives.
Pets are family. Most of them won't pose when we ask them to, but that's okay because to honestly depict what life with pets feels like, we don't need any posing. Everything we need for these pictures happens in our homes every day.
Tips for photographing your pets
1. Turn Off Your Flash: If you've got a great moment all set up and framed, a flash is likely to startle your pet and ruin it. Also, pets (dogs in particular) are very susceptible to red eye. Use natural light whenever possible.
2. Macro: Get in really close or use the Macro mode on your point-and-shoot. Focus on your pet's eyes or mix it up and focus on other distinguishing features.
3. Together: Make sure to include the people who they love best in your pet photographs. Whether they're lying at your feet, licking your face, or out for a walk, we spend a lot of time with our pets. Make sure you have images that show what it felt like to live with your pet.
4. Nesting: Pets, like people, are most comfortable at home. Take advantage of this and capture them when they're still. The best photographs happen when you just look up and notice your pet being adorable. (Another good reason to always have a camera nearby.)
5. Action: To freeze the action when your pet is moving quickly, use your camera's Burst or Continuous shooting mode to take multiple consecutive images in a row. If you're shooting in Manual or Shutter-Priority mode, set your shutter to the fastest you can with the light you have available (usually higher than 1/500 second). If you're using a point-and-shoot camera, use the Sports or Action mode.
6. Personality: Every pet has their own character. Photograph your goofy dog doing his favourite trick, or your lazy cat sleeping in the sun.
7. Perspective: Vary your angle. Standing above your small pet and pointing your camera down at them will amplify their smallness, while photographing from below them will make them appear larger.
8. Snuggles: Capture a moment when they're snuggling—with each other or with us. We love to be affectionate with our furry friends.
9. Out and About: Hiking in the woods, walking along the shore or on-leash in the city, our pets are quite often our traveling companions.
Real Life Family Photography is Amy Drucker's guide to going beyond the birthday snapshot and learning how to take inspired and unposed family photographs that capture the ages and stages of family life. Real Life Family Photography puts an end to awkward family photos, encouraging you to take inspiration from the every day details, while offering tips on fundamental techniques such as exposure, composition, lighting and focus. There's even advice on how to photograph babies and pets, giving you the knowledge and freedom you need to take unique, frame-worthy pictures.
Real Life Family Photography
Amy Drucker
Buy it now!
RRP for print edition: £12.99